This article originally appeared on CIO.com.
Modern marketing isn't just about funnels and conversions. Really, it's all about the tools.
Hundreds of SaaS marketing tools exist that are designed to handle everything from scheduling tweets to helping marketers better understand their audiences. To determine which tools are worth the money, we asked digital marketers to weigh in. Here are the top four marketing automation tools (in terms of votes) cited by our 28 respondents, along with a few alternative utilities that are also worth a look.
1) HubSpot
HubSpot's marketing platform received the most votes (nine) by far, and pricing starts at $200 a month.
Why marketers love HubSpot:
Great all-in-one platform. "HubSpot is the best all-in-one marketing platform I've found. It not only does a great job with marketing automation but with social media, content marketing and CRM. All data is in one place, which helps anyone who uses the platform become a better marketer." — Darin Berntson, founder, Bernco Media
Boosts website traffic. "Honestly, HubSpot changed my life. I was working for a startup tech company that was starved for awareness and leads. How do you 'get found' when you're new and surrounded by large, established competitors? We adopted HubSpot, started blogging, optimizing Web pages, creating premium content and calls to action. Our website traffic shot up by three times and our contact database grew by six times in just three months." — Bill Peatman, business writer, Alaniz Marketing
Better understanding of audience behaviors. "We can manage contact history on the macro and micro level. That means I can see the entire prospect and customer base, segments and groups, and the individual customer's history. This helps our team understand audience behavior from one tool and lets everyone (sales, marketing, customer service) see the same picture." — Curtis Peterson, digital marketing manager, SmartFile
Intuitive interface. "The software makes my work easier because the whole site is intuitive. If you can do one thing, you most likely can adapt it to the whole site. Everything you do in HubSpot can make a difference in your conversion rate and leads." — Christina Kay, PR specialist and inbound marketing consultant, Bluleadz
"The easy-to-use interface allows you to aggregate all your marketing efforts in one place, giving you numerical-proven insights into exactly what is and is not working. The depth that the information goes into in the platform is simply invaluable. It drives everything that our team does." — Erin Wasson, vice president of marketing, UrbanBound
Solid reporting. "HubSpot provides closed-loop reporting, making it easy to know which marketing activities are effective. With HubSpot's tools, I know which activities are most effective during particular time frames." — Adam Bockler, communications manager, Float Mobile Learning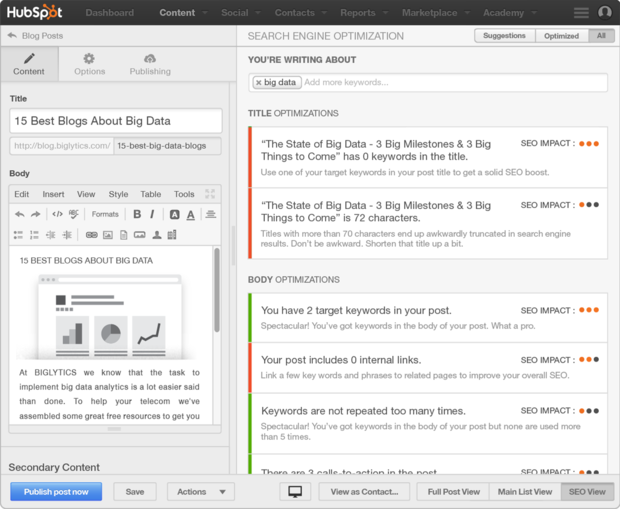 HubSpot's room for improvement
Contradictory approach toward content. "HubSpot speaks out of both sides of its mouth when it comes to content quality. I'm working a pretty serious segment — biotech and medical device manufacturing. You have to know what you're talking about to be credible. HubSpot acknowledges the need for high-quality educational content — people aren't looking to be sold when researching online. But they also offer $10 bloggers for hire and canned ebooks, which to me contradicts that message." — Alaniz Marketing's Peatman
Poor access to data. "Let me do SQL queries. Let me tie my data together. HubSpot has gates in front of the data, as many of these companies do. That makes it easier to use, but I'd love the ability to do better analysis and create better segments by giving me access to manipulate my data in new ways." — SmartFile's Peterson
Sales and CRM capabilities aren't fully realized. "HubSpot is one of the first automation tools that's spending more time building out the sales and CRM section of the platform, but they still have a little way to go. I believe that connecting marketing automation and sales is one of the most powerful things you can do for your business. It allows you to get the full picture when viewing your marketing analytics and see your real customer acquisition cost by traffic source. One of the things we are looking forward to is a CRM mobile app for HubSpot." — Caleb Edwards, founder, CEO, GreenHouse Agency
Not as many features as competitors. "HubSpot is wildly overrated. It has a nice interface but it has one-third the functions found in Marketo. HubSpot has done an A+ job of marketing themselves and building community. To me, it is a cult, not an enterprise-grade marketing tool. Their low-end $200 offering is almost not functional enough for Marketing 101. I've used it for startup clients with small budgets, and it's only slightly better than nothing." — Susan Roberts, managing director, Strata Consulting Services
2) Hootsuite
Hootsuite (five votes) is a freemium social media management dashboard that lets you write a single status update and post it simultaneously to multiple networks, as well as measure reactions. Paid plans start at $10 a month.
Why marketers love Hootsuite:
Streamlines social media management. "I don't believe in using automated tools for all social media, because social media should be real-time engagement. However, in terms of driving programs and promoting specific content and ensuring consistent communications, Hootsuite is an invaluable tool that enables me to manage and report on social media engagement." — Erika Goldwater, vice president of marketing, ANNUITAS
Saves time. "Hootsuite allows us to push content out to multiple social sites, which saves us a significant amount of time. It also allows us to auto-schedule our future social media updates. This lets us plan much of our marketing ahead of time as well as when the content needs to go out. We also use their reporting features frequently." — Mark Tuchscherer, president, Geeks Chicago
Hootsuite's room for improvement
Better Instagram integration. "Instagram is our fastest-growing channel, so naturally we were excited when integration was announced between Hootsuite and Instagram. Much to our disappointment, we quickly learned that while we could use Hootsuite to schedule Instagram posts, that really only means we would receive a push notification (basically a reminder) from Hootsuite, which then prompts us to open the Instagram app and publish the image. Sure, the reminder is helpful at times and allowed us to distribute posts across multiple channels at the same time. But Hootsuite doesn't truly automate the process with Instagram." —Ryan Worthen, owner, Reel Special Productions
(Note: Instagram currently doesn't permit posting from third-party tools, but Hootsuite offers "several handy time-saving features" for social teams that use Instagram, according to Marketing Land.)
3) Pardot
Pardot (four votes, and a few honorable mentions) is a B2B marketing automation platform that was acquired by Salesforce in 2013. Pricing starts at $1,000 a month.
Why marketers love Pardot:
Solid, all-around marketing tool. "We purchased Pardot in place of MailChimp after we implemented Salesforce. We can now track visitors coming to our site, manage customers and prospects between Salesforce and Pardot, create targeted drip campaigns, and quickly create and duplicate landing pages and dynamic forms. It's really amped up our marketing abilities." — Emily Verner, director of digital marketing, Great Eastern Energy
Dramatically boosts organic search results, email subscriptions, and more."We adopted Pardot in 2011 to establish a formal process for attracting and following-up with leads. Since implementing Pardot and Salesforce, developing buyer personas, defining our content strategy, and creating a lead scoring and grading model, we have experienced a 53 percent increase in organic search; a 40 percent jump in regular email subscribers; a 23 percent increase in leads assigned to the sales team; and 129 percent year-over-year growth in content conversions." — Shellie Hutchens, marketing director, Mediacurrent
Billy Cripe, CMO, Field Nation reports the following benefits since implementing Pardot: 123 percent increase in volume of leads; 237 percent increase in Sales Qualified Leads (SQLs); 241 percent jump in sales forecast dollar values; and 20 percent increase in sales team productivity.
Best mix of DIY tools for small marketing teams. "Pardot helps us punch above our weight and play in the major leagues. We looked at Marketo, HubSpot, and Eloqua and ultimately settled on Pardot because it had the best mix of DIY capabilities for a small marketing team and the native integration with Salesforce we really needed to be successful." — Cripe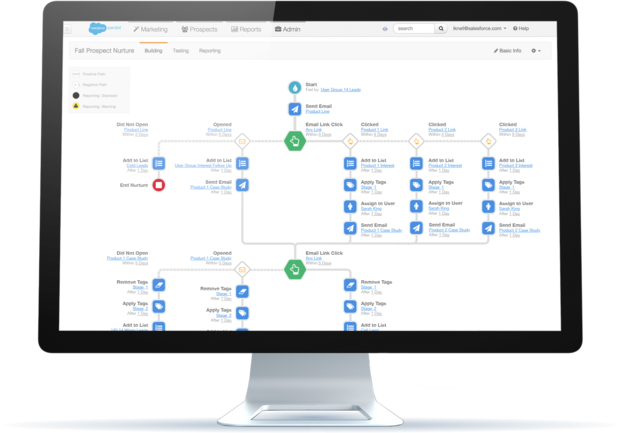 Pardot's room for improvement:
Weak customer support. "Pardot's customer support is lackluster. We had a designated rep for the first two months, and now I can only get support via email. I would love it if they followed Salesforce's lead by offering chat and phone support." — Verner
4) Marketo
Marketo (three votes) is an "engagement marketing platform" that offers email marketing, inbound marketing, lead generation and other tools. Pricing starts at $895 a month.
Why marketers love Marketo:
Integrates easily with other tools. "I use Marketo daily to manage and execute campaigns, build segmentations, and run my monthly reporting. Because Marketo is easily integrated with so many third-party tools, such as Google Analytics, GoToMeeting, and WordPress, it's considered the hub for most of our marketing activities. I take advantage of the automation capabilities to make my daily work easier. From building a webinar program at once and letting it run (including confirmation, reminder, and follow-up emails) to rule-based nurture programs, Marketo gives me the ability to set it up once and walk away. And the integration of Marketo with Salesforce is the best I've seen and the easiest to maintain." — Gwen Knudsen, associate director of demand generation, LiveHive
Solid tools for scoring leads. "Marketo's lead scoring has given me a level of automation that normally would require hours of manual work. Instead of sending leads in batches, leads are funneled to the sales team once they reach a certain score in real-time. Sales then takes those leads and puts them down their own 'nurture path,' using their own sales acceleration tool." —Knudsen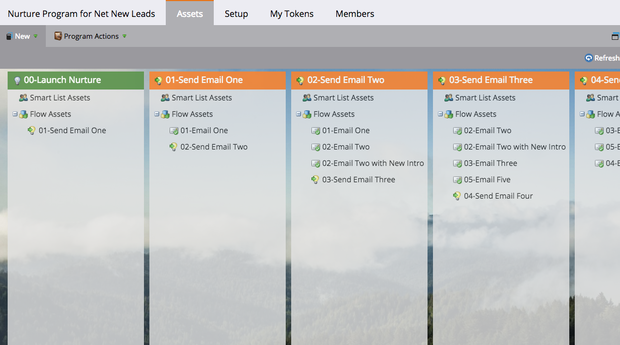 Marketo's room for improvement:
Dated interface. "Marketo does everything a marketer could ever want. But it's like wrestling a bear to tap into that functionality. The user interface must be based on some old piece of software from the 1990s." — Strata Consulting Services' Roberts
"Marketo's user interface is outdated, and I find their training difficult because the program's
delivery platform isn't user friendly." — Joey Baird, director of digital marketing, Sparxoo
Lackluster reporting. "The biggest area of opportunity I see for Marketo is around reporting, such as multi-touch attribution and closed-loop reporting. Marketing teams want to know what the winning formula was for a campaign and an opportunity. Visibility into that on Marketo can be cumbersome and manual." — Knudsen
3 more marketing automation tools you need to know about
The digital marketing pros interviewed for this article also identified the following, lesser-known marketing utilities.
Edgar is a social media dashboard ($49 a month and up) with similarities to Hootsuite and Buffer that lets you create a library of social media updates to post multiple times.
"I have a library of, say, 50 tweets that Edgar just keeps recycling. Some people will argue that you shouldn't recycle content. But when you think about Twitter, there's so much content moving so fast, it's likely when you tweet that many followers never actually see it." — Sarah Doody, user experience design and product strategy consultant.
Act-On is a marketing platform (pricing starts at $600 a month) and "a lower-cost alternative to Pardot for B2B marketing [that's] a little easier to operate." — Aleks Peterson, technology analyst, TechnologyAdvice.
IFTTT is a free automation service that lets you use or create recipes to link one cloud service to another, and itis an overlookedresource for marketers.
"I have a slew of sites I visit regularly in my Feedly account. I read the articles there, mark the ones I want to share with 'save,' and those links are automatically sent to my Buffer account via IFTTT. Later, I go to Buffer to clean up the posts and make sure they're phrased how I want and have appropriate people or sites tagged. But the process of moving them from one place to another takes literally one click." — Amy Vernon, consultant, Amy Vernon LLC
About the Author: James A. Martin is a seasoned tech journalist and blogger based in San Francisco and winner of the 2014 ASBPE National Gold award for his Living the Tech Life blog on CIO.com. James is also a content marketing consultant.