There's a brand new way to schedule and publish social with messages with HubSpot. In fact, there are many new features in the Social Publishing tool to help you customize, organize and optimize your messages like never before.
New Social Publishing Features:
A new calendar view to plan social messages that lets you know when there's a scheduling conflict between your posts
The ability to select default social accounts
Smoother scheduling that automatically carries a link across multiple posts
A bulk uploader so you can schedule multiple social messages at once
This all combines into a sweet new interface that will help you get better social media marketing done, every day.
New calendar view
You choose a custom or pre-determined publishing time to drive the best engagement results. You can also use the new calendar view to preview your scheduled messages for the rest of the month, making it easy to see which days have posts scheduled and what that scheduled content is. Days with blue dots in the bottom right-hand corner are days that you've pre-scheduled social content. This will help you schedule new social messages with confidence that you won't be spamming your beloved followers with too many messages at once.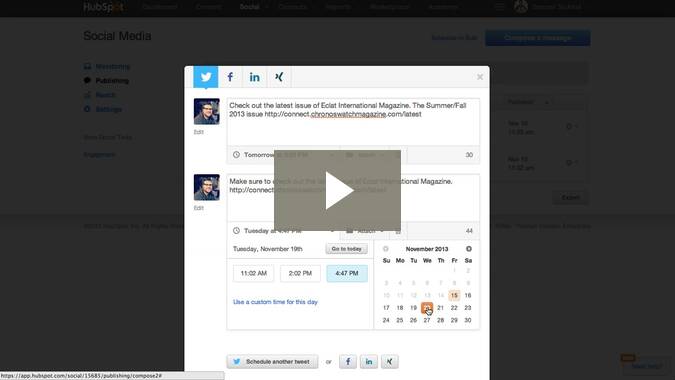 Default social media accounts
If you have a go-to Twitter or Facebook Page that you always post your content to, you now have the option to select it as a default account so that posting to your favorite networks is easier and smoother. If you haven't yet connected your accounts to HubSpot, click here for instructions.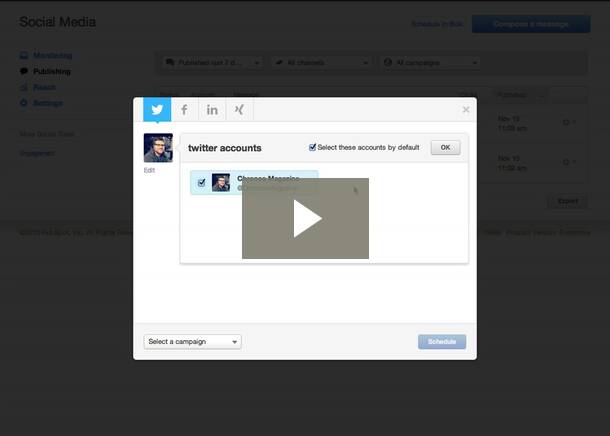 Bulk upload your social posts
Bulk Upload is finally part of the HubSpot's social media publishing tools! If you're the type of marketer who composes all your social content in advance, this is definitely the way to go. Bulk upload allows you to upload a CSV or Excel file that's pre-populated with Twitter messages, dates, and times, so that you can automatically create your complete social publishing schedule in one fell swoop.
Use the same link on different social networks
To make sharing the same content across multiple networks as simple as can be, you can now carry the link in your posts through to posts on different social networks for messages that you schedule to go live at the same time. You'll only be able to carry the link forward, not the accompanying text, so that you'll be sure to craft a custom message for each platform. This goes a long way towards preventing follower fatigue, as you probably already know.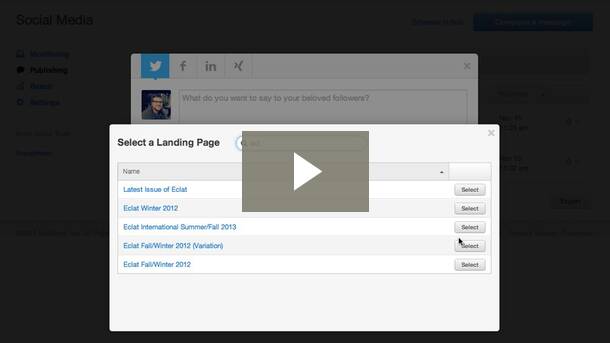 New social history Twitter card
Social Inbox is all about providing the context behind the people you're engaging with online, so we're bringing you even more context with your social history. You can find any Twitter user's social history on their HubSpot Twitter card, and it will show past interactions with your Twitter accounts in Social Inbox — including streams matched, if they've followed you or not, and more. Here is what it looks like:
Chrome browser plugin makes it easy to share content
HubSpot's plugin for Chrome has moved out of beta. The plugin makes it easy to share social content from anywhere on the web, with many of the same features and capabilities that you love about Social Publishing.
New social publish tools coming to you on December 2nd!
These new social inbox tools will be available to all HubSpot customers on December 2nd. There's nothing you need to do. Just login to your portal, go to Social > Publishing and these new tools will be there.