This article is part of our "HubSpot Updates series" – showing the latest updates to your HubSpot software portal and tips on how to use these updates. Click here to see more articles from this series.
My favorite recent HubSpot update: Add branching logic to existing workflow without deleting steps
When I wrote about HubSpot Workflow Superpowers a few weeks ago, one of the things I didn't talk about was how many times we had to create that complex workflow before we got it right.
That was because if you tried to add branching logic to a workflow, all of the existing steps following the branch were deleted. With this new update, you can now add an if/then branch to an existing workflow without deleting the following steps. You will be able to choose whether the steps will be moved to the "no" branch or the "yes" branch or deleted.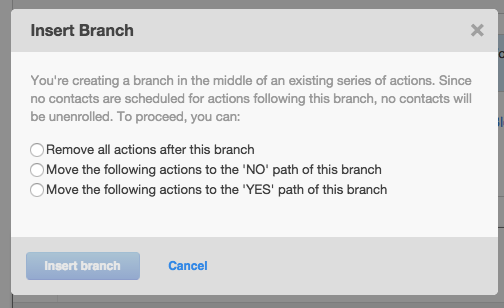 Google July 1st update requires a change in tracking URLs
On July 1st, Google rolled-out a change which replaces the "destination URL" field in your Adwords campaigns with a "final URL field" and creates a new field for tracking management. With this change, they also introduced a policy that requires the Final URL field to contain the same domain as the Landing page URL in their ads. For example, if your ad's landing page is "http://offers.yourdomain.com/demo", your Final URL field will need to contain "yourdomain.com".
This change will require action from anyone using shortened URLs for their Adwords campaigns. Because of the new policy which requires Final URLs to contain the same domain as their corresponding landing page URL, shortened links will no longer work with Adwords.
If you use HubSpot to build a tracking URL for your ads and are using hubs.ly links in your Adwords campaigns, you will need to switch the URL manually. To keep your Sources tracking functionality the same, you'll need to go back to the tracking URL builder and grab the Full Tracking URL instead of the hubs.ly link and paste that into the Final URL box for the ads that you're running. Your ads will reset when you save the ad, but all of your information will still be viewable in Google Adwords and HubSpot.
HubSpot Sales now documents activities in Salesforce
If you use Salesforce, you'll love this update! When your prospects interact with documents you've shared with them, those interactions are now logged right to the prospects' activity history in Salesforce, along with how long they viewed that piece of content for. Clicking on any one of these activities takes you to a full rundown of the interaction, including detailed metrics on how long it was viewed for, along with a link to the document in HubSpot Sales.
If you aren't using HubSpot Sales, you're missing out on a powerful tool! We use it to know instantly who just opened the email we sent an hour ago with our proposal attached. Then we can do a quick call (we know if you opened on your desktop or phone, so we know how to reach you) to say, "Fred, we sent you our proposal an hour ago — just checking to make sure you received it." Then we can use the call to tell Fred we'll be in touch with him tomorrow to answer any questions he might have.
But HubSpot Sales does so much more! Profiles in your inbox, see who opens your emails and when, schedule emails to be sent later (awesome for Gmail!), and more. HubSpot Sales is available for $50 per user per month and works in harmony with HubSpot CRM or Salesforce and connects to popular email platforms like Gmail, Outlook for Windows, and Apple Mail. To learn more, visit www.getsidekick.com/sales-teams.
And there you have it – a roundup of enhancements recently made to your HubSpot portal. By the way, these enhancements are all available in Professional and Enterprise versions.