(This blog post was originally published on the HubSpot Insiders blog, on Oct 9, 2013.)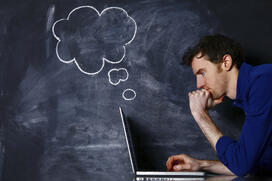 In late August, HubSpot rolled out its new COS (Content Optimization System). Our agency was one of the beta testers of the COS and continues to help existing HubSpot customers and new customers get onto the COS. We have enough experience with it now that I'd like to share some of our thoughts.
A Web Developer's Take

Because we come from a strong web development background, our initial exploration of the COS revolved around creating websites and making sure the system allows for whatever creative solutions or custom coding that we come up with.
Much to our surprise, the COS allows for any kind of web design and custom code we throw at it! We were very excited about the flexibility of the system and by the fact that it is fully mobile-optimized right out of the box. (For readers who are web designers, the COS is based on a 12-column grid.) We had no problem adding custom HTML, Javascript, JQuery, Ajax, or CSS.
Template Customization

On of the biggest surprises of the COS was that almost all the design work could be done without touching any HTML or Javascript by simply using the Template Builder:
The template builder makes implementing a new design in the COS easy and fast. Plus, it's easy for our clients to make simple changes to these templates with no knowledge of HTML at all.
The COS provides templates for all areas of your inbound marketing site: web pages, blog pages, blog listing pages, landing pages, thank you pages, email opt-in pages, emails, and 404 pages. The templates for all these different kinds of pages work exactly the same way, allowing your developer to quickly drop-n-drag to get the desired modules located in the various pages.
No IT needed! With the COS, anyone can create optimized content, personalized web pages, landing pages and emails in minutes, without any IT involvement. Plus, you'll find it's fully integrated with every marketing channel and adapts to the context of each viewer.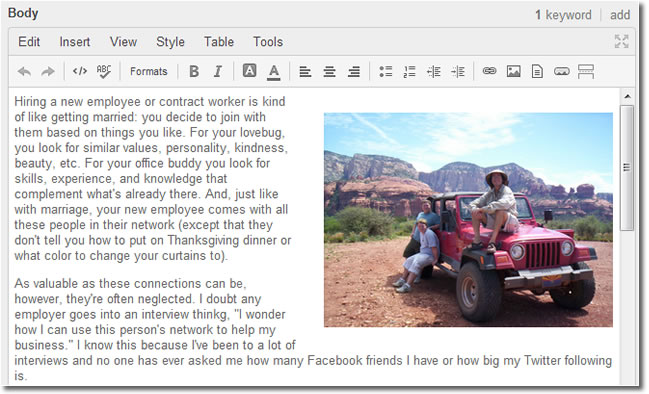 All your pages in the COS use responsive design which makes them automatically mobile-friendly for any device, from phone to tablet and more.
Smart Content Integration

The COS has some amazing tricks up its sleeve, most notably the ability to customize content on any page for each viewer. Because the COS is built on top of the Contacts database, it can "know" who is looking at the page content and display different content to different viewers. This smart content includes page content, forms and CTAs, and lets you personalize your pages for each lead and customer.
Moving from personalized emails to personalization across all marketing channels, particularly on websites, is an important next step in meeting customers' expectations and behavior. A 2013 study from Harris Interactive and Janrain found that nearly three-fourths (74%) of online consumers get frustrated with websites when content they see has nothing to do with their interests.
When individuals first opt-in to your marketing by completing a form or making a purchase, the database can begin to store information about the content they've consumed or items they've purchased. It can also store demographic or contact information they provide through form submissions. Once your database creates a profile on someone, you can put that information to use to make his or her experience more relevant.
Smart content is easy! To set it up, just add a rule like, "if this visitor's lead score is at least 70, show them this content," or "if this visitor's company is known, show them that content." You can use any field(s) in your database to build a smart rule. Then simply add the content to be shown for that rule.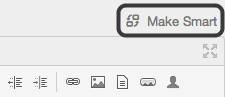 Once you create a rule, you'll be able to toggle back and forth between each variation using the dropdown menu to the rich text module's label.
Your smart content can be images, videos, text, or CTAs that are specifically tailored to where a prospect is in the buying cycle, or to the first time visitor, or to a customer.
Common questions about the COS
We've found that HubSpot users ask a lot of the same questions when considering moving to the new COS. Here are the most common questions they ask:
1. Will I lose any content?
No. Your web pages will be created in the COS and your blog will be migrated to the COS with all content elements intact. You can continue to use your existing landing pages, or you can move them to the COS, too. Regardless of what CMS you are moving from (HubSpot, WordPress, Drupal, Joomla, plain HTML, etc.), no content will be lost.
2. Will any of my URLs change?
Maybe. This depends on what content platforms you are moving from. One of the first steps in moving to the COS is to map all your existing content. If any URL's change as a result of the move, the COS makes it easy to provide the necessary 301 redirects for the search engines so that you content can still be found and you don't lose any search rank.
3. What if I want to add pages to my site — or delete pages from my site?
Your move to the COS is the perfect time to review all your content and make any changes that you want. You can also have new pages created and remove any old pages that are no longer needed. Remember, however, to use a 301 redirect to tell the search engines where links to your deleted pages should now be pointed.
4. Will this make adding new content easier than what I have now?
Yes, without a doubt. The COS brings everything together in a unified view that includes an editing window and a preview window, as well as all styling options, smart content options, CTAs, forms (including editing a form), thank you pages, emails and workflows. Adding new content has never been easier!
5. Is this COS fast? I don't want to spend extra time while pages load.
Yes, the COS is fast! In fact, it is at least 50% faster than Drupal, Joomla, and WordPress.
6. What does "mobile-ready" mean? Will everything work just right on all mobile devices?
The COS is built to be fully responsive to all sizes of displays, from smart phones to ultra-wide TV's. The code that makes this possible is built-in to the COS. However, check with your web designer for proper use of widths on images, tables, videos and other objects. Items that are set for a fixed width may not automatically be re-sized for small screens. The resizing is handling by a CSS stylesheet that can be customized for your website, blog, and landing pages.
7. What's the downside of moving to the COS?
None. We haven't found any downside issues, and we have lots of upside! Consider starting the process of moving to the new COS now so that you can have all its new tools available for your 2014 marketing!
8. Can I use a whole new website design when I make this change?
Yes. Although you don't need to re-design your website when moving to the COS, this is a great time to do a re-design if you've been thinking about it. Your web designer is going to have to build your whole website anyway– why not move to a fresh new look?
The Bottom Line

We love the new COS and find it to not only be a huge improvement over other system, but to actually set a new "high bar" that other systems must now strive to match.
Key advantages of the COS are:
Completely flexible for ANY website design
Easy to use
Mobile-optimized right out of the box
Integrates with every marketing channel
Can be personalized to individual viewers.Wickedly fast compared to other popular CMSs
Search friendly, with author tags, social media and keyword tools built-in
There is no reason NOT to move to the new COS, and lots of value you will get from making the move. Unlike previous changes to the HubSpot software, this is NOT a migration, and HubSpot will NOT be moving your website. You'll need to connect with a COS Certified designer to get your COS "turned on" and implement your new website in it.
We've been using the new COS for 5 months for ourselves and our clients, and highly recommend it without any hesitation. Start making plans now to enjoy the advantages of the COS in 2014.